Maximizing your potential using interctive tools in times of isolation

Let's face it, our world has changed overnight. One day we're living our lives commuting back and forth to work and dropping kids off, the next we're in a global pandemic, working in isolation to slow the spread of the novel Coronavirus.  We are all feeling the effects of living and working away from others as we practice social distancing while also trying to be productive in our jobs.  In the retail and apparel industries, we are figuring out new ways to operate, when we can't be in the office.  How do we continue to design, plan and bring and our collections to the market without slowing down?
"In the coming weeks and months, services will be further digitized as the creativity of a massive work-from-home population gets rolling. While many are naturally focused on continuity and hunkering-down, this moment is also about innovating – often in real time – to support critical services in a highly dynamic environment." - Bob Swan, CEO of Intel Corp.
In the apparel business, this can be exceptionally challenging since our industry is about designing products that we wear, about fabrics, about how the products will look on us and how entire collections will tell the right design story of our brand for that season. We can't do this with spreadsheets, we need to be able to visualize products, colors, materials to produce a seasonal collection.  For each collection, countless numbers of decisions must be made with dozens and sometimes hundreds of stakeholders across the globe.  Yet, we're all at home and not in our showrooms, conference rooms, offices or design studios.  We must embrace this new normal and continue to move forward but with new methods and tools. The same ingenuity that built this industry will also pull it forward.
While we are now comfortable using Zoom and other web conferencing apps all day to communicate with our teammates, we need a way to make all the decisions necessary to bring a collection to market. Good news is that tools and technology are now available for fashion brands to plan, merchandise and make decisions virtually, using the power of digital and 3D.
3D products and merchandisable Virtual Showrooms
Planning.  In order to make the right informed decisions about your collections, you need to be able to see the products in their best light.  Without physical samples, the most innovative brands are turning to virtual samples (3D renders) to be able to see their products from multiple angles, draped on a form to mimic how they would traditionally see it on a mannequin in a showroom. PixelPool creates tens of thousands of 3D apparel renders for the world's largest brands. Our fashion experts and 3D artists work directly with apparel brands to bring their designs from tech packs or Illustrator files to life like 3D imagery.  The apparel brands we work with are able to continue their seasonal planning, assortment planning, as well as visual merchandising and creation of store directives, while working away from their offices and showrooms.
Brands that have a library of 3D apparel files can take all of the advantages of working in a virtual space, with the ability to access, view and create lines, assortments and collections easily through a web based digital catalog that allows sorting, searching and filtering products to produce the right views for the moment.  They are able to view products by any type of attribute, from color to category to price range to account in order to do visual line planning, range planning and assortment planning.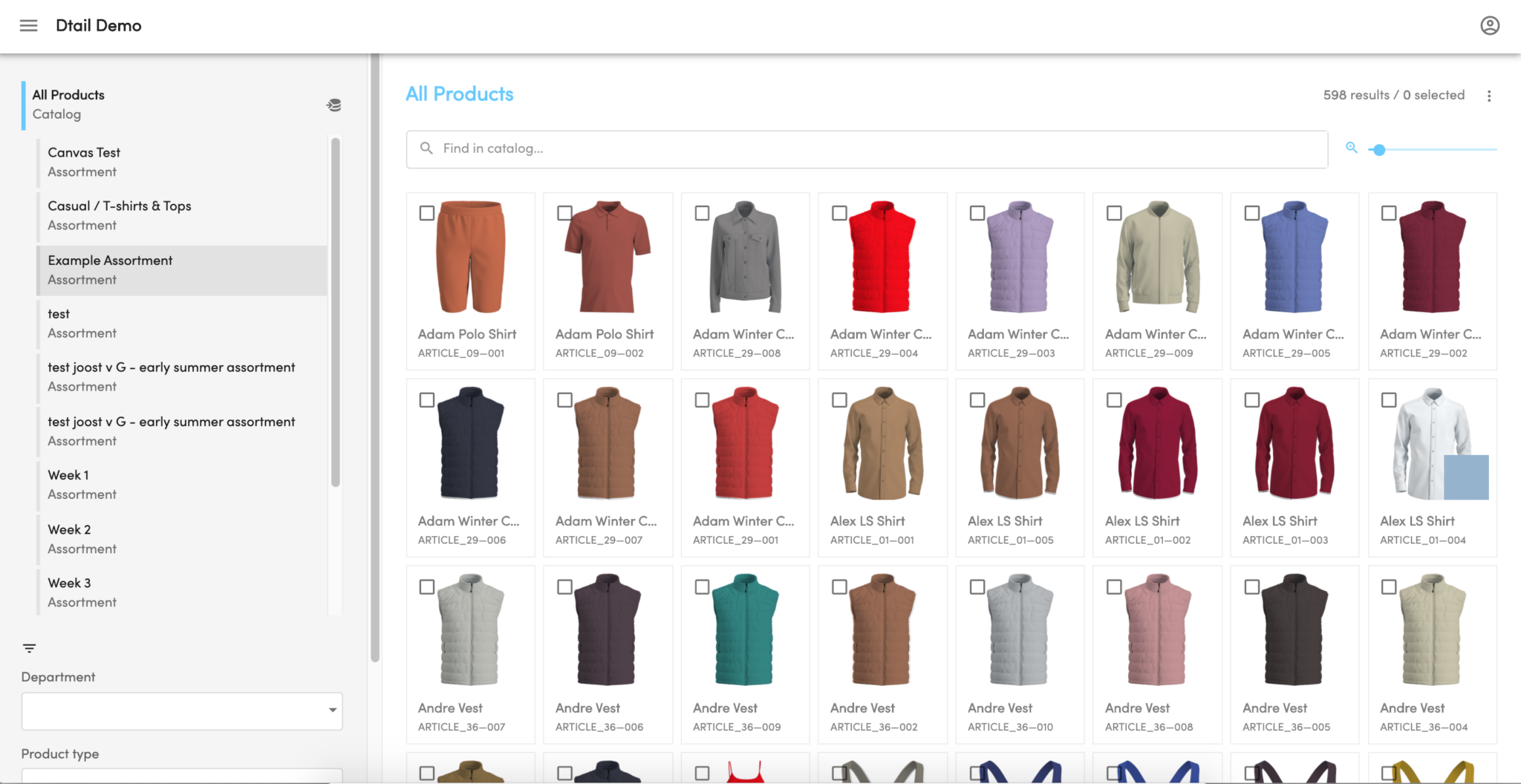 Using Digital tools – Web libraries and Virtual Showrooms
You no longer need a physical space in order to design your collections, plan your assortments and sell into your wholesale accounts.  You can do that virtually, using Dtail, fashion software from PixelPool.
Dtail is a fashion software platform that consists of two parts, the 3D Showroom (desktop app for Windows) and the web platform (which holds the data and 3D assets needed to feed the Showroom). The web platform can also be used on its own, without a connection to the Showroom, as a pure assortment planning and visualization tool (2D).
Dtail Web Platform – An online library and sorting tool for products
– All associated data (sku, color, category, geo, etc)
– 3D forms of products (apparel, footwear, accessories, etc)
– Filtering and searching capabilities
– Create assortment, view products, create collections
– Free form "canvas" to visually sort and review large collections from many different views in order to group products and make the best decisions.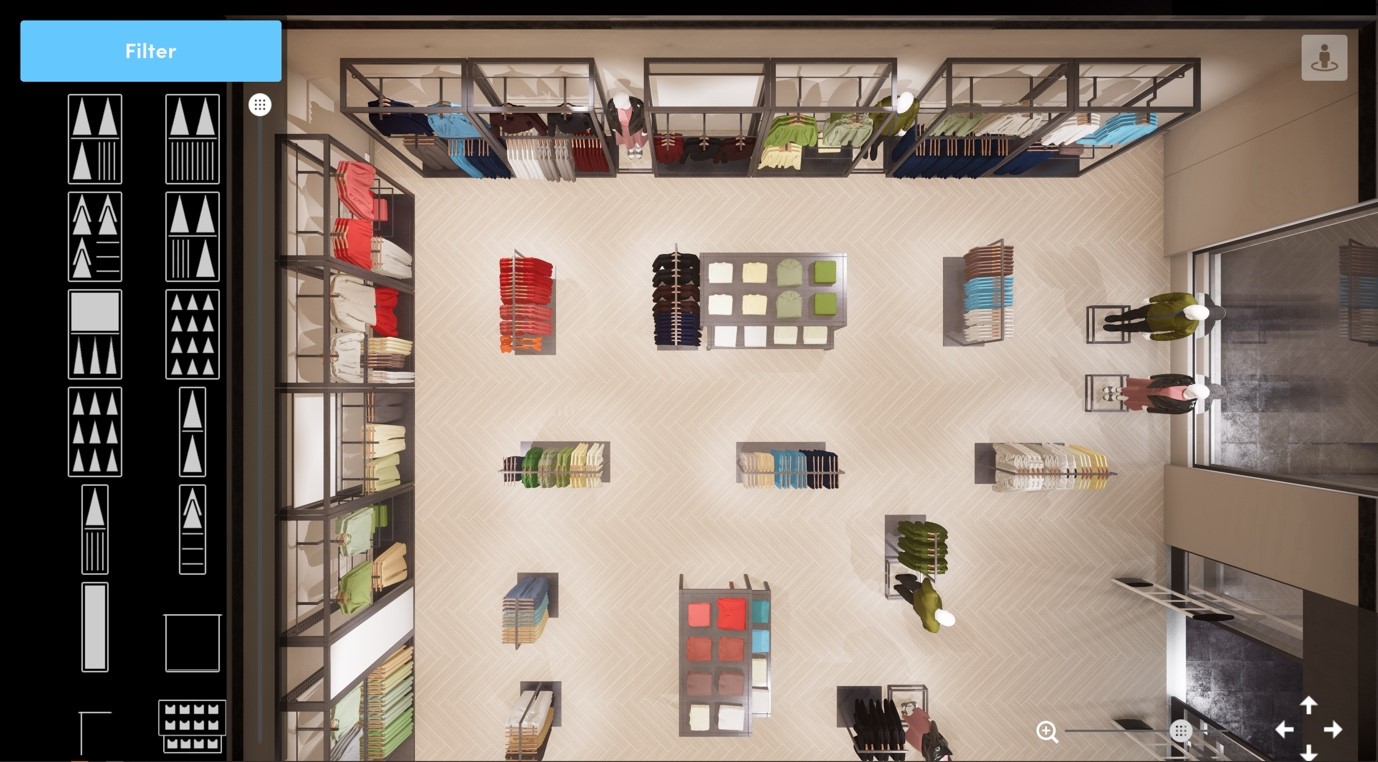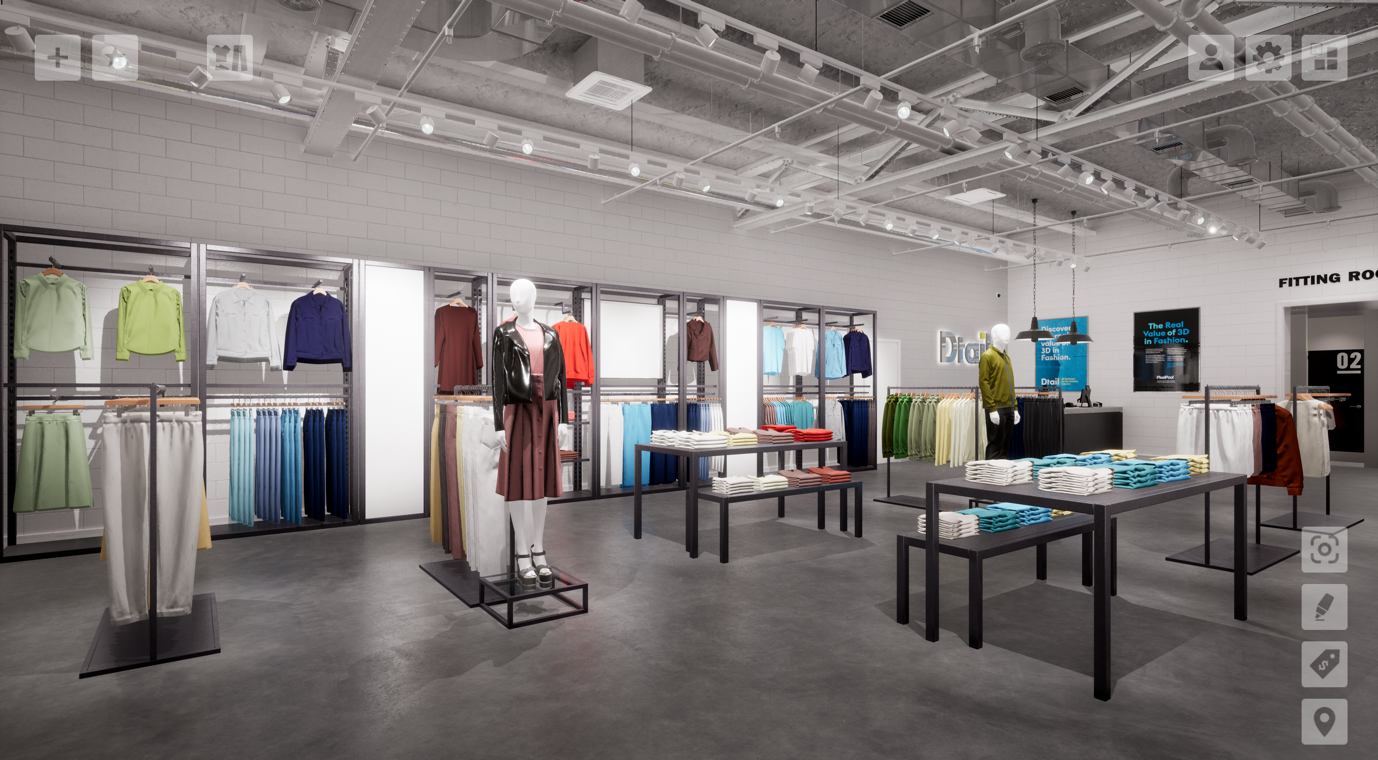 Dtail Web Platform – An online library and sorting tool for products
The Dtail Virtual Showroom is a real-time, highly realistic 3D environment of your branded retail store or showroom that you can configure with your fixtures and merchandise real-time in 3D.  The Dtail Virtual Showroom contains all the fixtures and environments needed (offered as a separate production service) so that assortments from the platform can be merchandised in a realistic store environment. Users have full control over the positioning of fixtures on the store floor (positioning, rotation, snapping to walls and to other fixtures, etc.) to create realistic layouts. The Showroom is generally used on a large (>50 inch) touch screen, with multiple users gathered around in a collaborative process. The platform, and especially the Canvas part of the platform, lends itself to a similar way of working
Influence your internal teams and accounts to buy your recommended assortments and lines.
Virtual showroom gives you the ability to sell in products in the most realistic way possible, complete with interactive SKU and pricing on screen.
Influence your internal teams and accounts to buy your recommended assortments and lines.
Virtual showroom gives you the ability to sell in products in the most realistic way possible, complete with interactive SKU and pricing on screen.
Once fixtures are placed, they can be merchandised individually with products from the assortments prepared in the platform. Products are dragged from a product library onto the fixtures, where they will automatically take the form that is appropriate for that (part of the) fixture (e.g. on a hanger, folded, on a mannequin, etc.). By dragging and dropping, products can be swapped, repositioned and removed.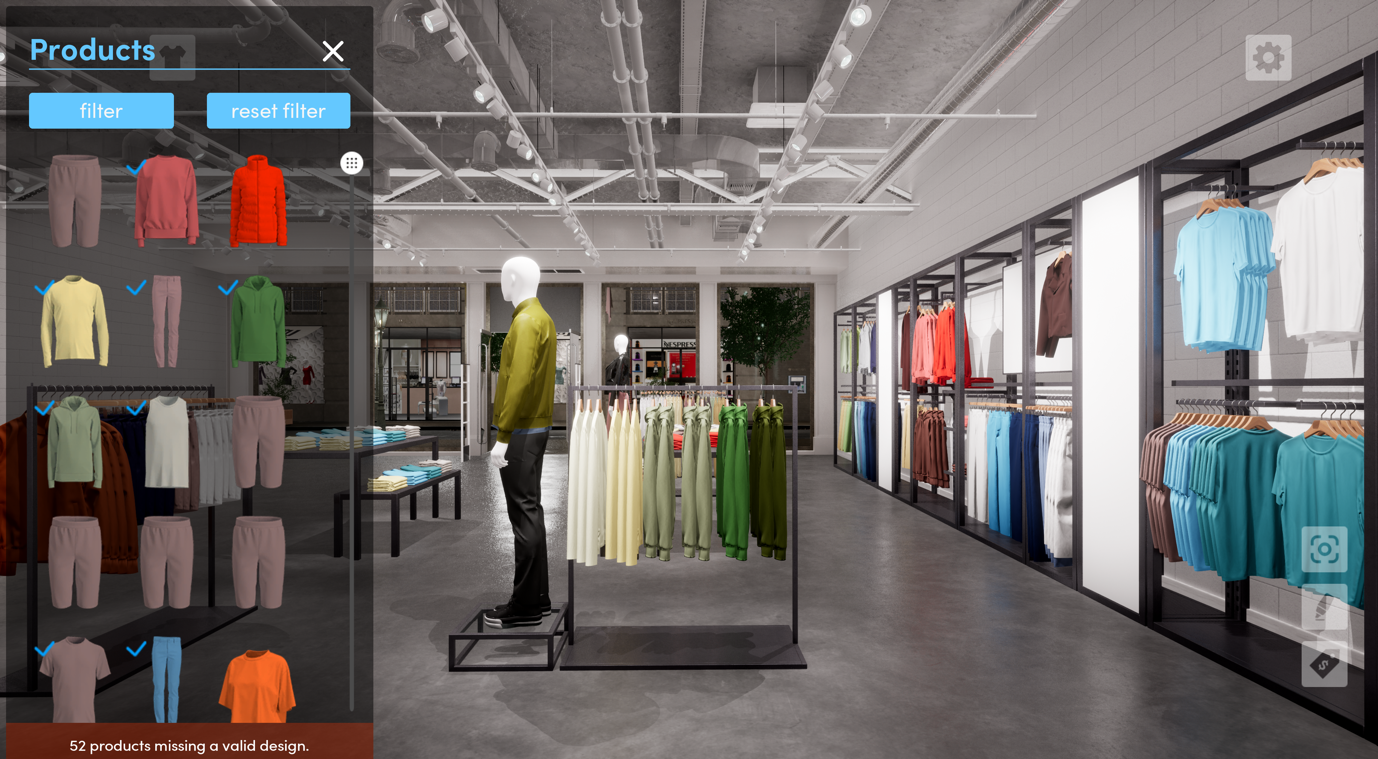 Fixtures that have been merchandised fully can still be moved, rotated and removed, also in groups. Any updates that are made to an assortment in the platform while the Showroom is being merchandised with that assortment will be synchronized. That means, that if products are added or removed from an assortment, or if an individual product has changed (model, color or print), this will be reflected in the Showroom.
Because environments and fixtures used in the Showroom can be built exactly to specification & dimensions, Dtail can be used to accurately plan out spaces for capacity. Common practice is to create environments specifically for key wholesale accounts that are built with extra attention to detail (branding, materials, storefront, etc.) for presentation/sales purposes, and additionally create generic spaces (100, 150, 200 m2 etc.) to represent a certain store grade / cluster that are more used for internal alignment meetings.  Fixtures can be placed freely in the environment to recreate layouts and setups that correspond with 'retail reality'.
Space planning and heat mapping analytics
Once environments are fully merchandised with fixtures and products, the data tied to these items is available for different kinds of analytics and data visualizations. The way these visualizations are used differs per customer (because their product facets differ). A couple of examples would be to highlight all products in the store that have a project sales value of X or higher, or to show different segments / product groups within an assortment outlined in different colors. These visual overviews can be saved as screenshots and uploaded to the platform for reference.
Additionally, there's a financial overview page that shows all the products in the store, their individual and cumulative value, the contribution of individual groups (such as "Jackets" or "Womens Footwear") to the total value of the store, among other metrics. These metrics can be exported as an Excel file and uploaded to the platform.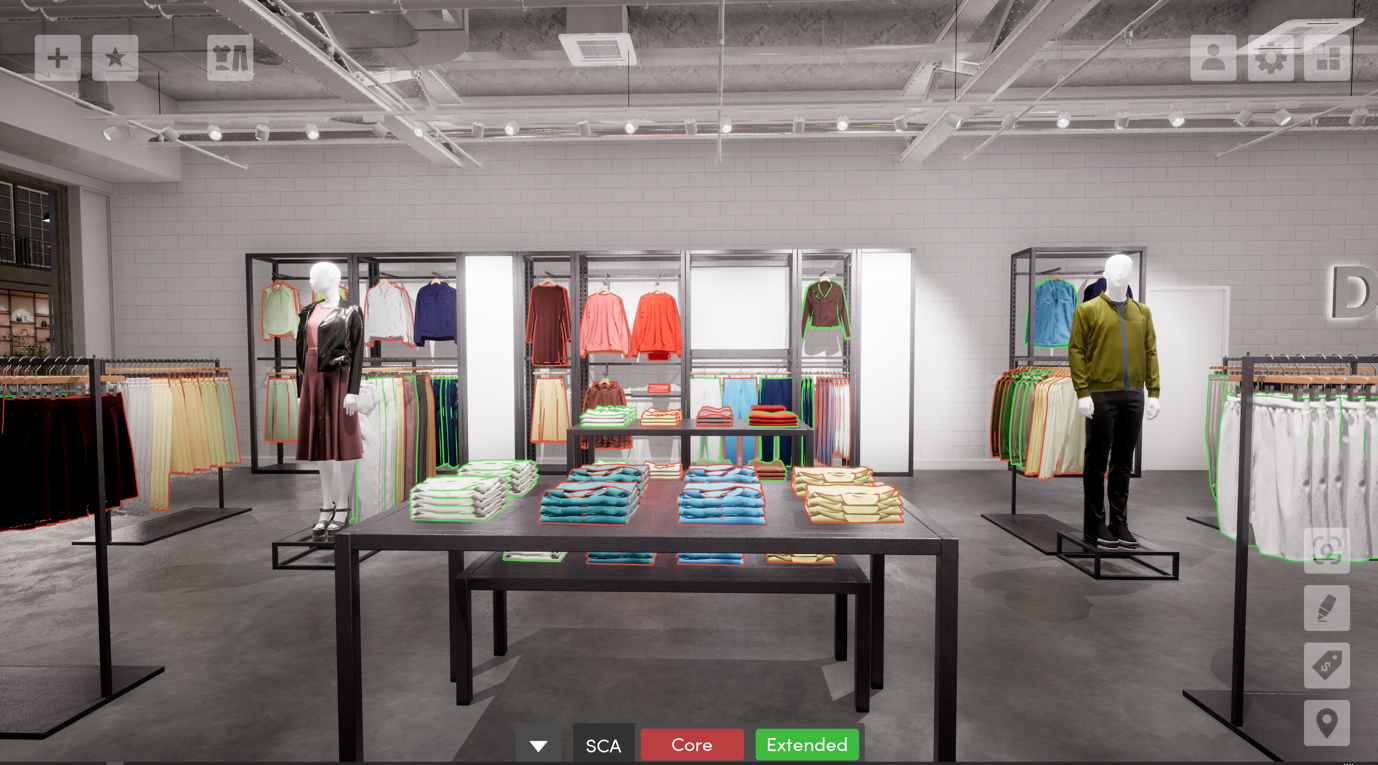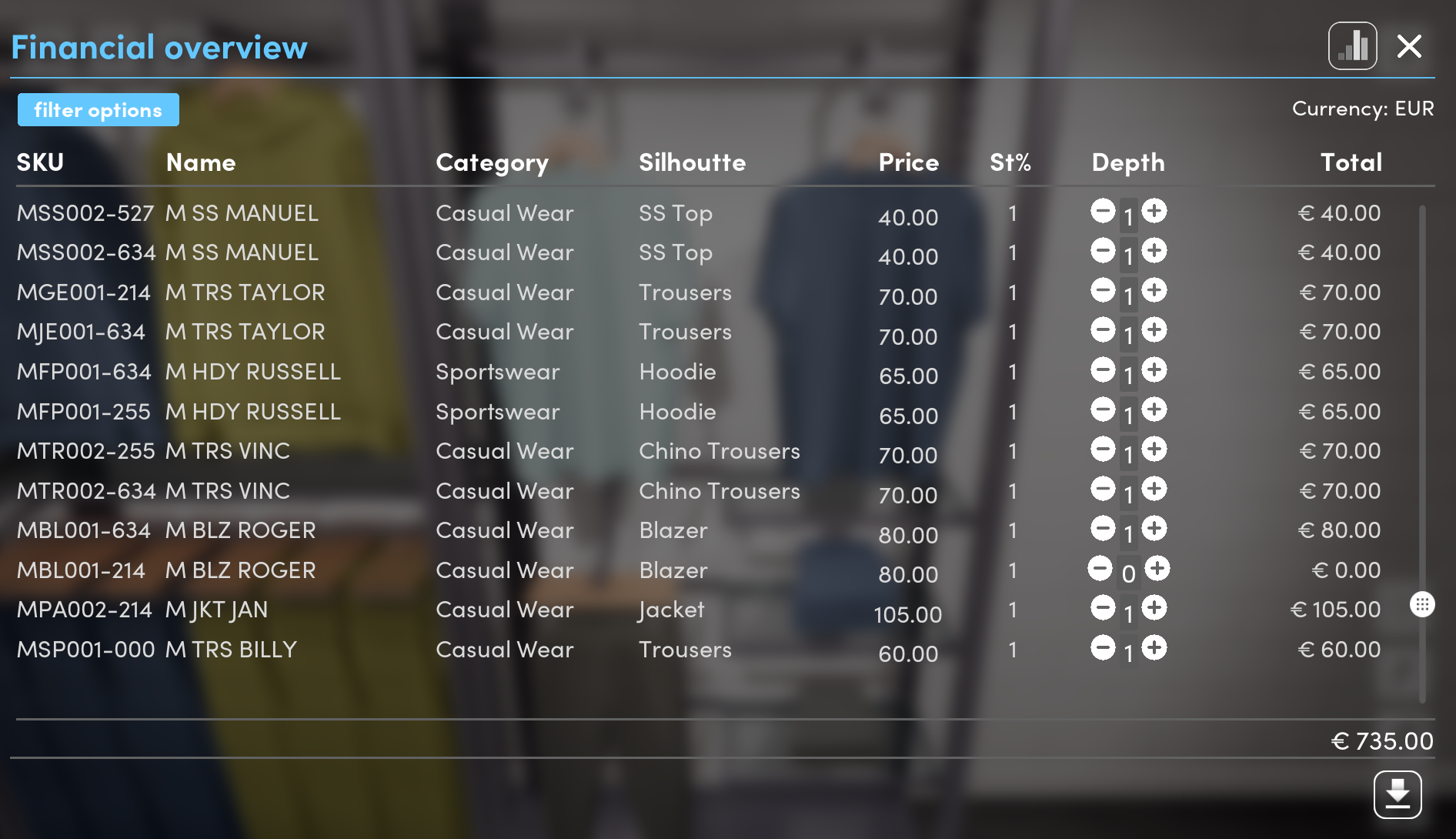 Innovate and Adapt
Although our work and lives has been turned upside recently, it doesn't mean that fashion brands have to halt their future lines and plans.  Utilizing the power and capabilities of digital and 3D in a fashion software platform such as PixelPool's Dtail, brands are able to plan, design, create and sell their lines virtually.  Questions, or just want to see a demo?  Please contact us.  We'd love to help.